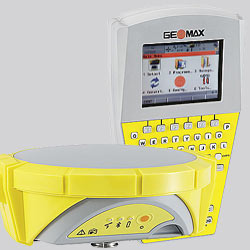 At GeoMax we understand that you work in demanding environments and require excellent price-to-performance without compromising quality, that's why we build products that "Work when you do!". The ZGP800 sets new standards in ease-of-use without compromising functionality.
With the ever increasing demand to complete projects faster and faster, surveyors are looking for technologies to help them improve their productivity. GPS is one of the latest technologies that delivers surveyors with a new tool to increase productivity. The GeoMax ZGP800 introduces a GPS system to surveyors that provides true price-to-performance and takes surveying productivity to the next level!
---
Raw Data Logging
With an exceptionally large memory of up to 1 GB, practically endless GPS raw data can be logged for post-processing. Upon completion of data collection, the removable CF card can simply be transferred to a PC for post-processing to deliver the final accurate coordinates.
PC Software
GeoMax Geo Office provides a complete suite of programs ready to support your field equipment. With complete flexibility and ease, data can be downloaded, post-processed and prepared for final CAD processing or direct delivery to clients.
Communication
The ZGP800 integrates modern wireless communication technologies. Bluetooth® wireless technology allows cable free communication between the antenna and controller, and also facilitates connectivity to mobile telephones to receive network RTK correction data. Where no regional RTK correction data is available, local RTK correction data is provided with an integrated UHF radio solution. With full flexibility and reliability, GeoMax GPS has the communication solution to suit your needs.
Quality
Equipped with state-of-the-art NovAtel GPS technology the ZGP800 provides maximum performance. With built-in Q-Lock technology, all satellites are tracked with the highest possible signal strength and regular independent checks are conducted to ensure that you can work in all environments, no matter how challenging. With imbedded multi-tasking processing, accurate RTK positions are computed automatically, or raw data is logged for postprocessing. No matter how demanding the conditions, you can be sure that your ZGP800 "Works when you do!".
Applications
At GeoMax we understand that your daily tasks vary greatly, that's why we have created a number of easy-to-use applications to guide you through every day. With both powerful applications and the latest in technology, you can be certain that GeoMax "Works when you do!".
Setout
Survey
Area
COGO Routines
Reference Line
Site Calibration & Coordinate Systems
Geomax GPS ZGP-800 Technical Specifications: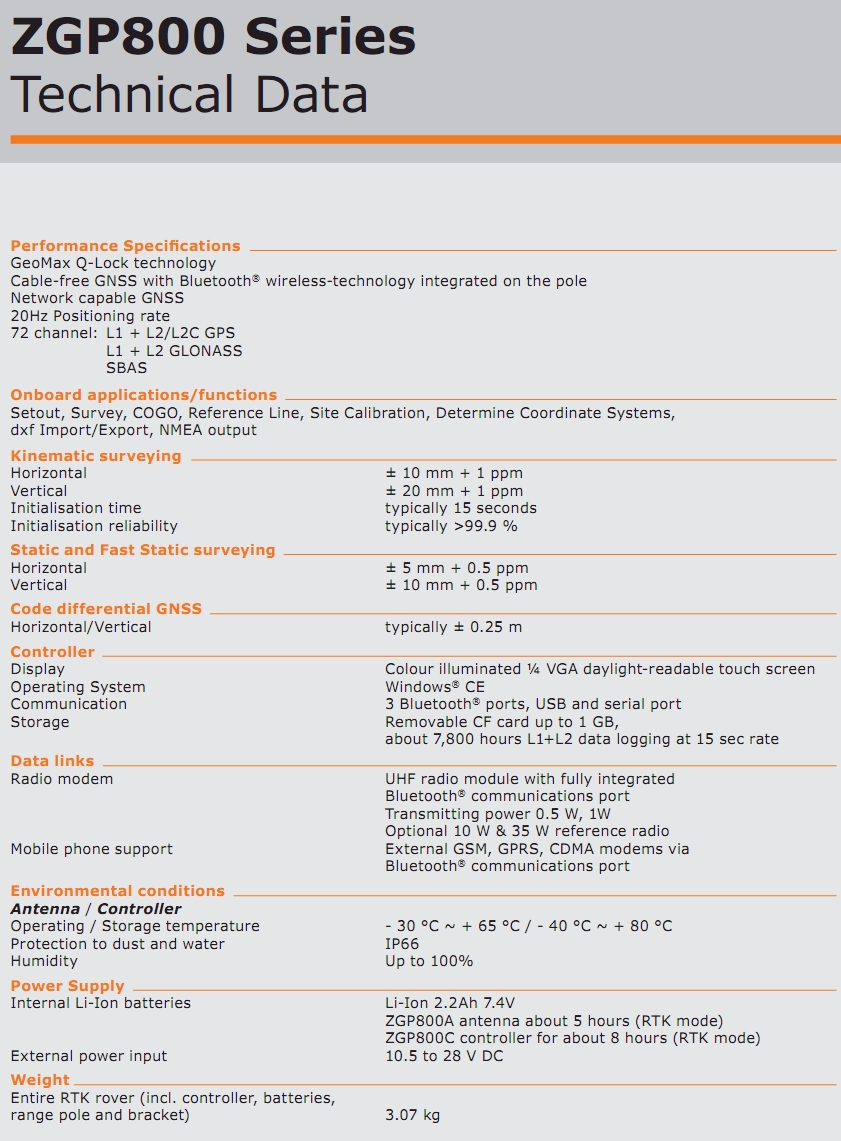 About GeoMax
GeoMax is an internationally active company developing, manufacturing and distributing quality surveying instruments. GeoMax provides a comprehensive portfolio of integrated instruments for the surveying, mapping and construction industries. Both occasional and professional users are addressed with GeoMax's easy-to-use, yet highly productive, range of Total Stations, GPS, Lasers, Optical and Digital Levels.
GeoMax is part of the Hexagon Group, Sweden, a global technology group with strong market positions within measurement technologies. Hexagon is the world leader in multidimensional measurements within the macro and micro segments of the measurement and positioning market. The famous international companies within the Hexagon Group deliver since decades precision products and solutions to the measurement industry. This technology is supported by a comprehensive sales and service network covering all continents with over 100 branches.