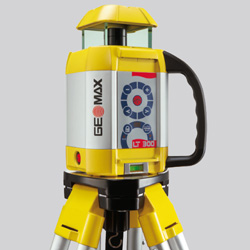 At GeoMax we understand that your equipment should be as flexible as you. With the ZLT300 and ZLT200 we introduce a series of multi-purpose lasers that cover all the range from machine control, site work, pipe laying to interior finishing.
We level, you work
Now is the time to stop chasing bubbles to get your job levelled. And the good thing is that you are only one button push away. From site work and levelling to alignment, pipe laying, interior finishing and civil engineering projects, the ZLT300 and ZLT200 are the partners that help you to get the job done in time, with the required accuracy and reliability. And all of this to the priceto- performance ratio GeoMax is known for.
Multi ApplicationBoth ZLT300 and ZLT200 offer automatic horizontal levelling as well as manual grades in both axis. Additionally the ZLT300 allows vertical levelling. In combination with the plump laser function on the ZLT300 it can serve you to align the laser to vertical and horizontal reference points. Using the plumb laser you have the perfect partner for pipe laying jobs in pipes ≥ ø 150 mm.
Dual Grade SlopesWith the manually adjustable grades you can simply match slopes in one or two axis by using the laser in manual mode. While used on one manual slope the automatic cross axis self levelling provides you with maximum security.
800m working range
Automatic horizontal and vertical levelling
Equipped with plumb laser
±8% ±5° levelling range
Five levels of rotation speed
Rechargeable NiMH batteries provide 50h working time
Highest Environmental standard in its class- waterproof
Laser Detector with integrated remote control
GeoMax Laser Rotator ZLT300 200 Technical Specifications: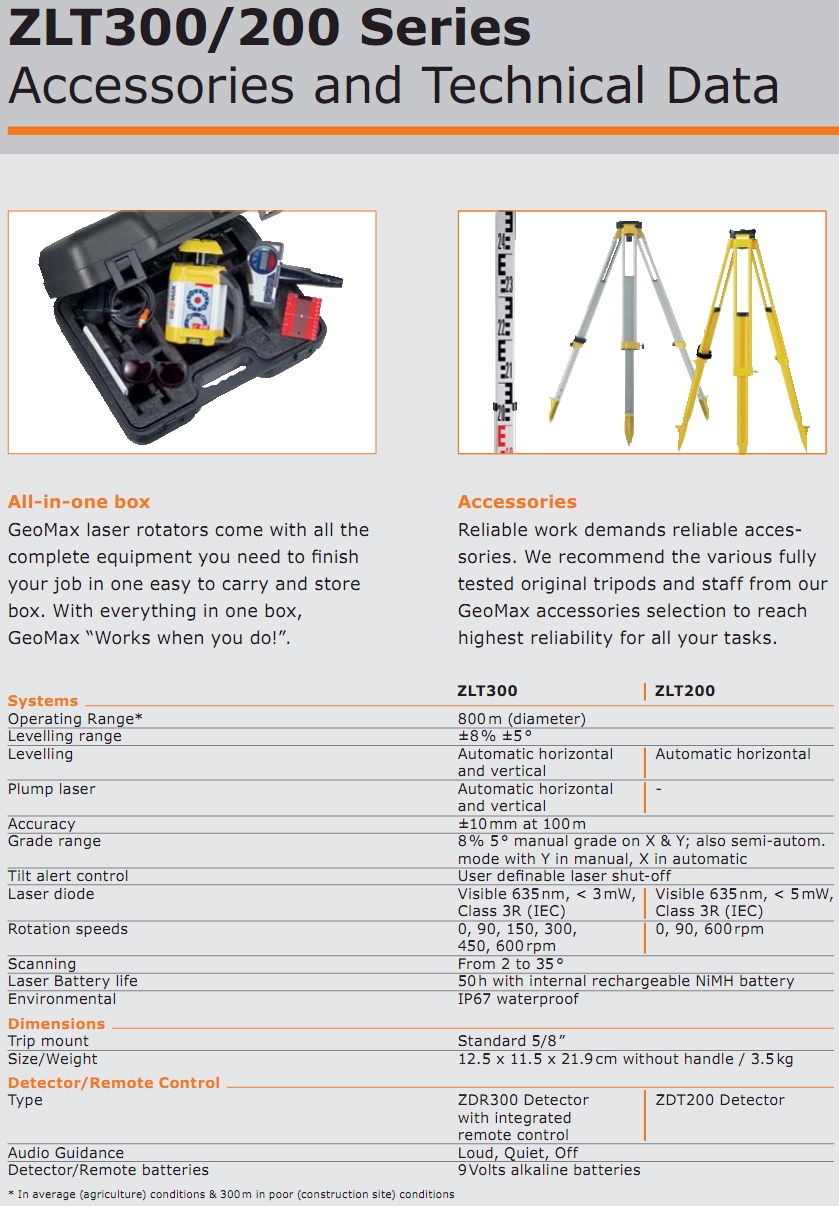 About GeoMax
GeoMax is an internationally active company developing, manufacturing and distributing quality surveying instruments. GeoMax provides a comprehensive portfolio of integrated instruments for the surveying, mapping and construction industries. Both occasional and professional users are addressed with GeoMax's easy-to-use, yet highly productive, range of Total Stations, GPS, Lasers, Optical and Digital Levels.
GeoMax is part of the Hexagon Group, Sweden, a global technology group with strong market positions within measurement technologies. Hexagon is the world leader in multidimensional measurements within the macro and micro segments of the measurement and positioning market. The famous international companies within the Hexagon Group deliver since decades precision products and solutions to the measurement industry. This technology is supported by a comprehensive sales and service network covering all continents with over 100 branches.