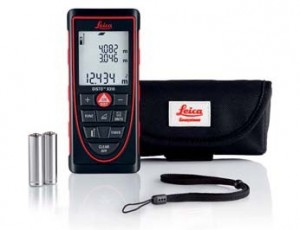 Leica Disto X310 – Robust MultiFunctionality
The new Leica DISTO™ X310 is the only laser distance meter to be dust-tight and protected against water jets – to IP65. In addition, it passes drop tests of up to 2 m height. Thanks to the integrated tilt sensor, it can take indirect distance and height measurements absolutely precisely.
Leica DISTO X310 – leave the measuring tape behind (New for 2012). The Leica Disto X310 is the compact and handy entry-level laser distance measure – even easier to use and accurate to 1mm based on the new ISO Norm standard for laser distance measures. The Leica Disto X310 has been redesigned to be ergonomic and  robust compact in design with a new soft grip that sits securely in your hand. The new rugged exterior compliments the new 80 meter power range laser with 360° Tilt Sensor and tough internal construction.
---
The new wider 3-line display makes it possible to read off individual and final  readings from several measurements at a glance, e.g. area and volume calculations – and thanks to automatic display illumination, even in the dark.  The Leica Disto X310 is very simple to use yet achieves a measuring accuracy of ± 1.0 mm.  Adding and subtracting as well as area and volume calculations, make for fast and reliable measuring. The last ten results are saved and can be accessed as required.
Leica DISTO™ X310 – guarantees reliable measurements, even under the harshest conditions.
IP65 water jet protection and dust-tight
360° tilt sensor
Smart Horizontal Mode™
Height tracking
Power Range Technology™
Illuminated 4-line display
Automatic multifunctional end-piece
ISO Standard 16331-1 – The standard for laser distance meters
The range and accuracy of laser distance meters depend on light conditions and reflectivity of the measuring target. For Leica Geosystems it is important that the instruments not only perform under perfect laboratory conditions, but above all under the kind of everyday working conditions encountered on construction sites. This is why, working together with external experts, the company have developed a standard by which laser distance meters can be tested and compared with each other.
Robust housing
The sensitive measuring elements are protected by solid rubber parts. Proven in drop tests from up to 2 m height, the Leica DISTO X310 is therefore particularly resistant.
Precision at the touch of a button
For everything you need to be accurate:
The Leica DISTO™ X310 measures with an accuracy of ± 1.0 mm.
Protection class IP65
The housing and keypad are specially sealed against water and dust. Cleaning under running water is also no problem.
Tilt sensor 360°
Thanks to the combination of distance and tilt measurements, you can determine the horizontal distance absolutely precisely and simply – even past obstructions. With the help of the tilt sensor, you can also determine indirect heights.
Small and handy
Thanks to its ergonomic and compact design with soft grip, the Leica DISTO™ X310 sits securely in your hand, is lightweight and fits into any pocket.
Smart Horizontal Mode™
If obstructions prevent you from taking direct distance measure-ments, you can use the Smart Horizontal Mode™ to determine the horizontal distance simply and absolutely precisely.
Multifunctional end-piece
Whether measuring out of corners, slots or from edges, with this end-piece you are prepared for all measuring situations. The instrument detects the end-piece automatically, which helps you avoid expensive measuring errors.
Easy to read display
The results are shown on three lines. The display illumination means they can be clearly read, even in the dark.

Leica Disto X310 Delivery Package:
Holster
Hand loop
2 AAA batteries
CD with manual / safety instructions
Producer certificate
Quickstart guide
Technical specifications:
Typical measuring accuracy
± 1 mm
Range
up to 80 m
Measuring units
0.000 m, 0.0000 m, 0.00 m, 0.00 ft, 0'00'' 1/32, 0.0 in, 0 in 1/32
Power Range Technology™
•
Distance in m
Ø of the laser dot in mm
10, 50, 100 m
6, 30, 60 mm
Protection class
IP65 – water jet protection and dust-tight
Measurements per set of batteries
up to 5000
Batteries
type AAA 2 × 1.5 V
Dimensions
122 × 55 × 31 mm
Weight with batteries
155 g
| | |
| --- | --- |
| Functions: | |
| Min/max measurement | • |
| Continuous measurement | • |
| Stake out function | • |
| Addition/subtraction | • |
| Area/volume | • |
| Painter function | • |
| Pythagoras | 3 points, partial height |
| Smart Horizontal Mode™ | • |
| Height tracking | • |
| Memory | 20 Displays |
| Illuminated display | • |
| Multifunctional end-piece | with automatic recognition |
Leica Disto X310 Introduction
Leica Disto X310 Smart Horizontal Mode
Leica Disto X310 Robust IP65 Protection
About Leica Geosystems – when it has to be right
With close to 200 years of experience pioneering solutions to measure the world, Leica Geosystems products and services are trusted by professionals worldwide to help them capture, analyze, and present spatial information. Leica Geosystems is best known for its broad array of products that capture accurately, model quickly, analyze easily, and visualize and present spatial information.
Those who use Leica Geosystems products every day trust them for their dependability, the value they deliver, and the superior customer support. Based in Heerbrugg, Switzerland, Leica Geosystems is a global company with tens of thousands of customers supported by more than 3,500 employees in 28 countries and hundreds of partners located in more than 120 countries around the world. Leica Geosystems is part of the Hexagon Group,