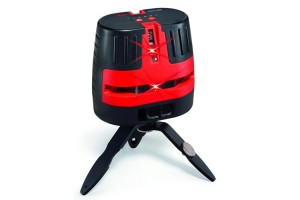 Leica Lino L360 – All Around Visibility
NEW: The Leica Lino L360 projects laser lines quickly, accurately and further – increasing the working range to 360°. The proven Power Range Technology™ ensures outstanding visibility of the lines. This combination makes the Lino L360 to a valuable partner at any construction site and allows perfect leveling and alignment.
---
The instrument can be positioned quickly, the automatically levelling laser projects horizontal and vertical laser lines immediately. Small angle deviations up to 3.5°± 0.5° are automatically compensated. When the instrument is tilted more the the laser starts to blink, this indicates that the lines are not levelled.
The Leica Lino L360 is supplied with a smart mini-tripod and adapter. This accessory is much more then a small tripod, with the integrated magnets it can be mounted to a steel or iron object. The tripod can also be used as a wall-mount adapter and can be mounted by simply hanging it on a nail or screw.
Leica Lino L360 Features:
360° horizontal line close to the floor level
180° vertical line
Well-dampened pendulum-based self-leveling
1.5mm @ 5m horizontal accuracy
Rechargeable battery pack for extended operating time
Dust-proof and jet water protected – IP65
360° horizontal line close to floor
You do not need to turn the device, to transfer reference points from one side to the other. Furthermore the laser line is very close to the floor, allowing you to check levels easily.
Pendulum based self-leveling
The instrument is set up quickly thanks to a well-dampened pendulum, effortlessly projecting horizontal and vertical lines. Minor angular misalignments of 3.5°± 0.5° are compensated automatically. If the tilt is outside these limits, the laser lines will flash to prevent errors.
Clever mini tripod adapter
It is much more than a small tripod. With the integrated magnets it can be fixed to steel or iron pipes and used as a wall bracket. To fix it on a non magnetic surface, simply take a nail and hang it up.
Rechargeable Battery pack
No need to buy stocks of batteries. With the in-built rechargeable battery pack and extended operating time of over 20 hours, the L360 is a reliable tool on your construction site.
Leica Disto X310 Delivery Package:
Leica Lino L360 Line Laser
Target plate red
Mini tripod adapter
International charger with 4 plugs
| | |
| --- | --- |
| Technical specifications: | |
| Range | up to 15 m* |
| Range with detector | > 15 m |
| Leveling accuracy @ 5 m | ± 1.5 mm |
| Self-leveling range | 3.5° ± 0.5° |
| Accuracy of horizontal line @ 5 m | ± 1.5 mm |
| Vertical accuracy @ 3 m line length | ± 0.75 mm |
| Beam divergence | 360° (horizontal) |
| Beam direction | vertical, horizontal |
| Laser type | 635 nm, laser class II |
| Batteries | rechargeable battery pack |
| Protection class | IP65 dust-proof and jet water protected |
| Operating temperature | - 10°C to 40°C |
| Storage temperature | -25°C to 70°C |
| Dimensions (HxDxW) | 131.7 x 145 x 96.2 mm |
| Weight with batteries | 1009 g |
| Tripod thread | ¼" |
* Depending on lighting conditions
Leica Lino L360 Introduction
About Leica Geosystems – when it has to be right
With close to 200 years of experience pioneering solutions to measure the world, Leica Geosystems products and services are trusted by professionals worldwide to help them capture, analyze, and present spatial information. Leica Geosystems is best known for its broad array of products that capture accurately, model quickly, analyze easily, and visualize and present spatial information.
Those who use Leica Geosystems products every day trust them for their dependability, the value they deliver, and the superior customer support. Based in Heerbrugg, Switzerland, Leica Geosystems is a global company with tens of thousands of customers supported by more than 3,500 employees in 28 countries and hundreds of partners located in more than 120 countries around the world. Leica Geosystems is part of the Hexagon Group,