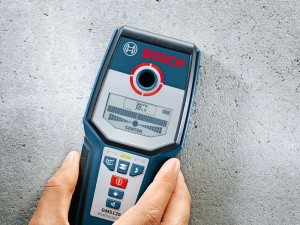 Detectors have a wide range of applications. Various materials have to be reliably detected in different building materials. Bosch therefore offers suitable products for every imaginable application. The range consists of multi-detectors and special detectors that can also be used to reliably detect plastic pipes. Even the depth of the objects is displayed. All detectors from Bosch are calibration free. Your advantage: the instruments are immediately ready for use, objects are reliably detected and application errors are prevented.
---
Consistent Material Coverage
With its three modes, Bosch's GMS120 digital multi-scanner is an aid in most situations, as its modes cover wood studs, metal objects such as rebar, studs, and steel/copper pipes, and live wiring. It has precise automatic calibration that makes use easier and an automatic center finder, which pinpoints the center spot of the wood or material that has been detected.
Deep Detection
The GMS120 has a deep metal detection feature, which allows a user to detect steel that is placed up to 4-3/4-inches (120 mm) deep in cured concrete. It has a maximum detection depth of up to 2 inches for live wiring, up to 3-1/8 inches for copper, and up to 1-1/2 inches for wood studs.
User-Friendly Features
Bosch's GMS120 digital multi-scanner provides an illuminated ring that indicates detection status and an audible detection signal with an on/off button. Adding to the user-focused design, its bright and readable illuminated graphical LCD display indicates mode, detection strength, and more, making it simple to check the detection device and switch modes and tasks. In addition, its ergonomic soft-grip provides a comfortable grip that's secure and safe.
Advantages: GMS 120 Professional
The most reliable multi-detector in its class
Maximum reliability: most objects are found and application errors are avoided due to the automatic calibration
Reliable detection even of deep-lying objects – up to a depth of 12 cm
Even more reliable detection of objects due to three-colour LED luminous ring
Pinpoint indication of the object's centre with the Centre Finder scale, and display of material properties
Better visibility of the result due to illuminated display
Marking hole with LED luminous ring
Three detection modes for various applications: Drywall mode, metal mode, live cable mode
| | |
| --- | --- |
| Detectable materials | Ferrous metals, non-ferrous metals, wooden substructures, live cables |
| Max. detection depth | 120 mm |
| Detection depth, steel, max. | 120 mm |
| Detection depth, copper, max. | 80 mm |
| Detection depth of live cables, max. | 50 mm |
| Detection depth of wooden substructures, max. | 38 mm |
| Automatic deactivation facility, approx. | 5 min |
| Power supply | 1 x 9 V 6LR61 |
| Weight, approx. | 0,27 kg |
| Length | 200 mm |
| Width | 85 mm |
| Height | 32 mm |
| Dust and splash guard | IP 54 |