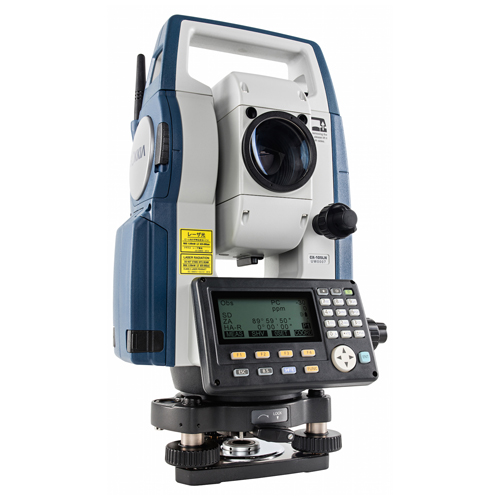 Sokkia CX 105 Total Station – Easy-to-use, high precision, rugged and reliable. Those are Sokkia traditions. Now with the CX, Sokkia have added innovation. The CX 100 Series Total Station incorporates many new technologies while still maintaining Sokkia's easy-to-use functionality.
Tradition Meets Innovation
5″ Accuracy
Fast distance measurement of 0.9s.
RED-tech technology reflectorless EDM
Reflectorless operation from 30cm to 500m.
Long-range Bluetooth technology.
Advanced angle measurement system.
The longest battery life – 36 hours.
Waterproof, rugged and operator friendly.
Advanced security and maintainance with TSshield™
Metal chassis and heavy duty handle add ruggedness.
Standard usage temperature range-20°to +60°C.
Contact Us for Best Price
Key Features of Sokkia CX105 Reflectorless Total Station
Sokkia CX 105 Reflectorless Total Station features include advanced RED-tech EDM for fast, pinpoint reflectorless measurement up to 500m. Its Long-Range Bluetooth® wireless communication provides data instantly to your Bluetooth-equipped controller, up to 500m away. Integrated TSshield provides unmatched remote ability to track, secure, and support your instrument. Its IP66 dustproof/waterproof rating, heavy-duty metal chassis and handle, and work-week battery life make the CX 100 Series the clear leader in conventional total stations.
RED-tech Technology Reflectorless EDM
Fast distance measurement of 0.9s regardless of object.
SOKKIA traditional pinpoint precision in reflectorless distance measurement.
Reflectorless operation from 30cm to 500m.
Coaxial EDM beam and laser-pointer provide fast and accurate aiming.
Ensures accuracy even with reflective sheets.
LongRange Data Communication
The CX series of total stations features Bluetooth® Class1 wireless technology for reliable data communications.
All CX data is instantly available at the Bluetooth-equipped controller.
Advanced Angle Measurement System
CX 100 Series features SOKKIA's original absolute encoders that provide long-term reliability in any job site condition. Dual-axis compensator ensures stable measurements even when setup on uneven terrain.
Sokkia's traditional motion clamp and tangent screw are employed to ensure stable angle measurement.
The Longest Battery Life – 36 Hours!
The CX single battery can last up to 36 hours.
Greatly reduces likelihood of low power during any full-days work.
Eliminates the need for nightly recharging or carrying extra batteries.
Waterproof, Rugged, and Operator Friendly
IP66 dustproof / waterproof rating.
Metal chassis and heavy duty handle add ruggedness.
Standard usage temperature range-20°to +60°C.
USB TypeA port for convenient added memory. Use of included USB accessory assures IP66 protection.
One-touch star key [★] offers instant access to functions.
Conveniently located "trigger" key lets you take a series of measurements with the push of a button without taking your eye off the telescope.
Control panel features large 10-key pad with LCD that provides optimum viewing and convenience.
Green/red telescope guide light enhances work efficiency in a range up to 150m.
Built-in laser plummet with five brightness levels is equipped for quick instrument setting in all lighting conditions.
Sokkia Total Station CX105 Technical Specifications:
Model
Sokkia CX 105 Total Station
Telescope
Magnification / Resolving Power
30x / 2.5″
Length
171mm (6.7in.)
Objective aperture
45mm (48mm for EDM)
Image
Erect
Field of View
1°30′ (26m / 1,000m)
Minimum focus
1.3m
Reticle illumination
5 brightness levels
Angle Measurement
Display Resolution
1″/5″ (0.0002 / 0.001gon, 0.005 / 0.02mil)
Accuracy (ISO 17123-3:2001
5″
Dual Axis Compensator / Collimation Compensation
Dual-axis liquid tilt sensor, working range: ±6′ (±111mgon) / Collimation compensation available
Distance Measurement
Laser output (Reflectorless mode)
Class 3R / Prism / sheet mode: Class 1
Range reflectorless mode
0.3 to 500m
Range prism mode
1.3m to 4,000m / Under good conditions: to 5,000m
Display Resolution
Fine/Rapid: 0.001m / 0.01ft. / 1/8in. Tracking: 0.01m / 0.1ft. / 1/2in.
Accuracy
Reflectorless: (3 + 2ppm x D) mm
Prism Mode: (2 + 2ppm x D) mm
Measuring Time
Fine Measurement Mode
0.9 sec.(Intial 1.7 sec.)
Rapid Measurement Mode
0.7 sec.(Intial 1.4 sec.)
Tracking Measurement Mode
0.3 sec.(Intial 1.4 sec.)
Interface and Data Management
Display / Keyboard
Graphic LCD, 192 x 80 dots, backlight, contrast adjustment / Alphanumeric keyboard / 25 keys with backlight
Control panel location
On both faces
Trigger key
On right instrument support
Data storage
Internal memory: Approx. 10,000 points
Plug-in memory device: USB flash memory (Max. 8GB)
Interface
RS232C, USB2.0 (Type A, for USB flash memory)
Bluetooth® modem (option)
Bluetooth® Class 1, Ver.2.1+EDR, Operating range: up to 300m (980ft.)
General
Laser pointer
Coaxial red laser using EDM beam
Guide light
Green LED (524nm) and Red LED (626nm), Operating range: 1.3 to 150m (4.3 to 490ft.)
Levels Graphic
6′ (Inner Circle)
Circular Level
10'/2mm
Optical
Magnification: 3x
Minimum focus: 0.3m from tribrach bottom
Dust and water protection
IP66 (IEC 60529:2001)
Operatig temperature
-4ºF to +122ºF (-20ºC to +50ºC)
Size with handle (w x d x h mm)
Control panel on both faces: W7.5 x D7.1 x H13.7in. (W191 x D181 x H348mm)
Weight with batter and tribrach
Approx. 12.3 lb. (5.6kg)
Power Supply
Battery (BDC70) Detachable battery
Li-ion rechargeable battery
Operating time (20ºC) BDC70
Approx. 36 hours (single distance measurement every 30 seconds)
Sokkia CX 105 Total Station Scope of delivery
Sokkia CX105 Total Station
1 No. Battery (BDC70)
1 No. Battery Charger (CDC68)
Power Cable
Lens Cap
Lens Hood
Tool Pouch
Screwdriver
Lens Brush
Adjusting Pin 2x
Cleaning Cloth
Operation Manual
USB memory stick
Carrying case
Carrying Strap
Heavy Duty Wooden Tripod
Prism with Holder & Target Plate
Telescopic Prism Pole
Get Quote Now
Sokkia CX105 Total Station - Compact X-ellence Station
Sokkia CX-105 Total Station – Easy-to-use, high precision, rugged and reliable. Those are Sokkia traditions.
Contact us for Sokkia CX 105 Best Price..
Get Quote Now