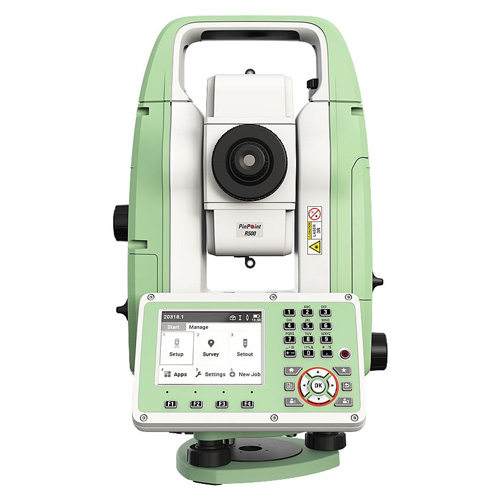 The Leica FlexLine TS03 high-quality, manual total stations are based on a proven product concept that has been revolutionising the world of measurement and survey for nearly 200 years. The instruments are equipped with a comprehensive application-based software package – Leica FlexField software – that enables most survey and stakeout tasks to be carried out easily and efficiently. The new FlexLine manual total stations work reliably and deliver accurate results even in harsh environments.
2″, 3″ & 5″ angular accuracy
1.5m to 3500m Single Prism Range
Prism GPR1 (Long Range mode) > 10.000 m
R500 EDM – 500m Reflectorless Range
2 GB Internal Memory Approx 100,000 Points
USB Memory Stick & SD Memory Card support
3.5″, 320 x 240px QVGA, grayscale and full alpha numeric keyboard
Quadruple Axis Compensation, IP66 Protection, Laser Plummet for Centering
Shipping Worldwide – Contact Us for Best Price
Key Feature of Leica Flexline TS 03 Reflectorless Total Station
Leica FlexLine TS03 is a classic manual total station for standard measuring tasks, enabling you to carry out most survey and layout tasks easily and efficiently.
Be it building construction, civil engineering or surveying and mapping – the Leica TS03 helps you tackle your daily challenges and tasks trouble-free:
Managing directors of construction departments benefit from minimal downtime of your survey crews to deliver projects under budget and in time.
Survey managers can rely on the highest product durability in the market, which increases your planning certainty.
Surveyors work faster by measuring more points per day with less measurement errors and rework.
Leica FlexLine: The new generation of manual total stations
The new Leica FlexLine series is based on a proven product concept, revolutionising the world of measurement and survey for nearly 200 years. Unlike any other manual total stations in the market, Leica Geosystems manual total stations focus on providing the highest quality, the lowest total cost of ownership and the longest durability in the industry, enabling users to work with purpose-driven solutions for the best performance results.
Leica FlexField software: Comprehensive, intuitive and easy to use
The Flexline TS03 Total Station is equipped with the Leica FlexField software, an intuitive, easy-to-use and familiar software. Guided workflows and easy to understand graphics and icons ensure a low learning curve when working in the field. The software makes the interpretation of measurement values or text no longer necessary and guarantees a faster and simple operation when you need it. With its pinpoint distance measurement system, you will be able to measure to both prisms and any surfaces.
The Leica FlexLine TS03 Reflectorless Manual Total Station is one of the top-class instruments with an accurate EDM (Electronic Distance Measurement) technology that offers a reflectorless range up to 1,640 feet (500 m). This manual total station operates a range of 11,483 feet (3,500 m) using a single prism. It is also equipped with a broad application-based Leica FlexField software for better surveying and stakeout performance.
The FlexLine TS 03 total station features a quadruple axis compensation that has a setting accuracy of up to 0.5 second and range of ±4'. For better target viewing, the TS03 telescope has a 30x magnification, 3" resolving power and a focusing range of 5.05 feet to infinity. It utilizes a Laserclass 2 laser plummet that covers a diameter of 0.1 inches at 4.9 feet instrument height. To easily manage data, it has an RS232 interface and a USB stick/SD card interface, which can accommodate 2GB internal flash memory and a 1GB SD card RAM.
Leica Total Station Flexline TS03 Technical Specifications:
Leica FlexLine TS03
ANGULAR MEASUREMENT
Accuracy Hz and V
Absolute, continuous, diametrical
2'' / 3'' / 5''

Display resolution: 0.1″ (0.1 mgon)
Quadruple axis compensation
Compensator setting accuracy: 0.5″ / 1″/ 1.5″ / 2″
Compensator range: +/- 3.78′ (+/- 0.07gon)
Electronic level resolution: 2″
Circular level sensitivity: 6′ / 2mm

yes
DISTANCE MEASUREMENT
Range

Prism (GPR1, GPH1P): 1.5m to 3.500m
Prism GPR1 (Long Range mode) > 10.000m

yes
Non-Prism / Any surface
R500
yes
R1000
no
Accuracy / Measurement time
Single prism

Precise+ / Once: 1mm + 1.5ppm (typical 2.4s)
Precise&Fast / Once&Fast: 2mm + 1.5ppm (typical 2s)
Tracking / Continously: 3mm + 1.5ppm (typical < 0.15s)
Averaging: 1mm + 1.5ppm
Long Range mode / > 4km: 5mm + 2ppm (typical 2.5s)

yes
Non-Prism / Any surface

0 m – 500m: 2mm + 2ppm (typical 3-6s)
> 500m: 4mm + 2ppm (typical 3-6s)

yes
Laser dot size

At 30m: 7mm x 10mm
At 50m: 8mm x 20mm
At 100m: 16mm x 25mm

yes
Telescope

Magnification: 30x
Resolving power: 3"
Focusing range: 1.55m / 5.08ft to infinity
Field of view: 1°30' / 1.66gon / 2.7m at 100m

yes
GENERAL
Display and keyboard
3.5" (inch), 320 x 240 px QVGA, grayscale, 28 keys
yes
2nd keyboard
no
Key illumination
no
Operation

Endless drives for HZ & V
Trigger-Key: user definable with 2 functions

yes
Power management
Exchangeable Lithium-Ion battery
yes
Operating time with GEB361
up to 30h
Operating time with GEB331
up to 15h
Battery charging time with
GKL341 charger for GEB361 / GEB331
3h 30min / 3h
GKL311 charger for GEB361 / GEB331
6h 30min / 3h 30min
Data storage

Internal memory: 2GB Flash
Memory card: SD card 1GB or 8GB
USB memory stick: 1GB

yes
Processor

TI OMAP4430 1GHz Dual-core ARM® Cortex™ A9 MPCore™
Operating system – Windows EC7

yes
Interfaces
RS2327, USB device
yes
Bluetooth®8, WLAN9
no
Mobile Data sidecover: LTE-Modem for internet access
no
Guide Light (EGL)

Working range: 5m to 150m
Position accuracy: 5cm at 100m
Wavelength red /orange: 617nm / 593nm

no
Laser plummet
(Laserclass 2)
Accuracy

Plumb line deviation: 1.5mm at 1.5m instrument height
Diameter of laser point: 2.5mm at 1.5m instrument height

yes
AutoHeight module for automatic instrument height measurement (Laserclass 2)
Accuracy

Distance accuracy: 1.0mm @ 1m
Distance range: 0.7m to 2.7m

no
Weight
4.3kg
Environmental specifications
Working temperature range: –20°C to +50°C
yes
Arctic version: –35°C to +50°C
no
Dust / Water (IEC 60529) / Humidity: IP66 / 95%, non-condensing
yes
Military Standard 810G, Method 506.5
yes
Get Quote Now
Leica Flexline TS03 Manual Total Station – Best-in-class and easy to use
With the new FlexLine series, Leica introduced an enhanced environmental protection. The new FlexLine instruments deliver the precision and accuracy not just under standard conditions but also under extreme conditions and over the entire product lifetime. All these aspects contribute to the durability of Leica Flexline total stations.
Contact us for Leica Total Station Flexline TS 03 Price..
Get Quote Now