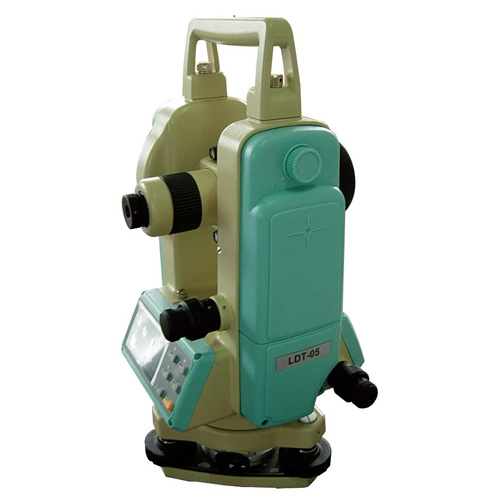 The Leica LDT-05 digital electronic theodolite is designed for enhanced performance in construction applications. Work faster with the advanced features of the Leica Digital Theodolite LDT-05 to improve productivity while increasing the bottom line.
Fast set-up and easy to use The advanced features of the LDT-05 Leica Theodolite makes set-up fast and very easy. The intuitive on-board functions allow most anyone to use this great tool, even those with minimal experience! Economical and affordable The LDT-05 is attractively priced to fit everyone's budget. Contact us today for more details and a formal quote.
5-second accuracy – High accuracy for tight tolerances
Automatic vertical compensation – A tilt warning occurs if out of compensation range, preventing costly errors
Optical plummet – a Makes setting over a point a snap — much faster & easier
Precision dual LCD panels with large, easy-to-read numbers
Zero resetting – Instantly resets the horizontal angle to zero
The Leica LDT-05 includes both rechargeable and alkaline battery options
Contact Us for Best Price
Leica Electronic Theodolite LDT05 Key Features:
Leica theodolite is a new generation technical equipment for measuring both horizontal and vertical angles, It is a key instrument for land surveying and civil engineering work. The electronic theodolite consists of a telescope movable within two perpendicular axes – the horizontal axis, and the vertical axis. When the telescope is pointed at a desired object, the angle of each of these axes can be measured very precisely.
Enhanced Reliability

5'' horizontal and vertical readout
Precision dual LCD panels with large, easy-to-read numbers
Vertical angle measuring provides three different options plus percentage of grade
Easy-to-read & easy-to-use

Auto Power Off option
Optical plummet
Zero resetting
Removable tribrach for multiple set-ups
Audible right-angle notification

Once the (0) horizontal angle is determined, the Leica LDT-05 emits an audible tone for each of the right angle directions
Beeping stops when the units comes within +/– 1°
Rugged IP54 protection

Water resistant, sealed construction
One year warranty
Leica Digital Theodolite LDT 05 Technical Specifications:
Model
Leica LDT-05
Precision
5"
Display resolution
1" or 5"
Display units
DEG (360° 00' 00"), GON (400), MIL (6400), V / %
Telescope
Magnification
30x
Objective aperture
45 mm (1.7 in)
Minimum focusing distance
1.35 m (4.43 ft)
Stadia multiplication factor/constant
100/0
Compensator
System
Automatic vertical compensator, User set On/Off
Working Range
± 3'
Operation
Display
Double side large character back-lit LCD
Keys
6 one touch button functions
Optical plummet
Image
Erect
Magnification
3x
Field of view
5°
Focusing range
0.5m~
Environmental conditions
Protection to dust and water
dust and water resistant
Weight
Weight including battery and tribrach
4.6 kg (9.9 lb)
Battery/Power management
Type of battery
Rechargeable NiMH, replacement alkaline battery pack
Operation period without laser plummet
36 h
Get Quote Now
Leica LDT-05 Digital Theodolite
The Leica LDT-05 digital electronic theodolite is designed for enhanced reliability in construction applications.
Contact Us for Leica Digital Theodolite LDT-05 Theodolite Price
Get Quote Now