Protect by Leica Geosystems
We always protect your success
Understanding construction and our customers' needs has enabled us to develop product solutions for all positioning, measuring, levelling, aligning and plumbing tasks on site. Our products provide the highest levels of reliability, accuracy and ruggedness – even under the roughest jobsite conditions, making our customers more productive and successful. With Protect by Leica Geosystems we offer a best-in-class service where customers can count on us, anytime, anywhere.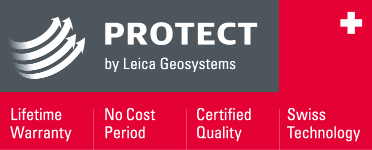 Lifetime Manufacturer's Warranty
Warranty coverage for the entire usage time of the product, in accordance with Leica Geosystems International Limited Warranty. This includes free of charge repair or replacement for all products that suffer defects as a result of faults in materials or manufacturing.
No Cost Period
Guaranteed best-in-class service  should your product become defective or require servicing under normal conditions of use, as described in the user manual, at no additional charge to you.
Our service includes:
Repair or replacement of all defective parts including labour time
Adjustment and calibration
Thorough functional test and safety check
Maintenance, cleaning of product and carrying case
Your serviced product will be returned back to you as good as new!
Certified Quality
Leica Geosystems runs calibration laboratories (No. SCS079) and a test laboratory (No. STS549).  Both are fully accredited by the SAS, the Swiss Accreditation Service. The calibration and test certificates issued by Leica Geosystems are officially and internationally recognized for horizon, angle, distance, frequency and laser classification. This confirmation of precision guarantees the highest possible reliability for our products. All laboratories are regularly controlled by an independent national institution according to ISO 17025.
Swiss Technology
"Swiss Technology" creates confidence. Our worldwide operations are state-of-the-art production centres, where Swiss precision, extraordinary craftsmanship and cutting-edge technology go hand-in-hand. Continuous and extensive tests throughout all stages of development and production ensure our products meet the highest standards for precision and quality.