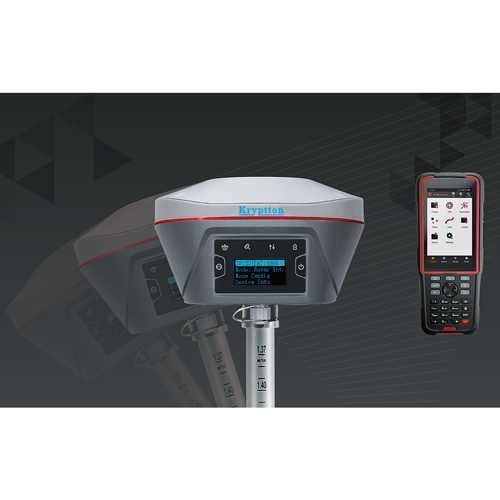 Kryptton GNSS Receiver empowered by a high precision inertial measurement unit (IMU) on Ultimate version, Kryptton GNSS receiver is a new generation of tilt survey GNSS receiver. This kind of calibration-free tilt compensation is immune to magnetic disturbances. Kryptton GNSS receiver gives a surveyor unprecedented flexibility and efficiency – holding the survey pole upright is no longer necessary. With an internal high-performance multi-constellation and multi-frequency GNSS board, the Kryptton GNSS Receiver can provide high accuracy and stable signal detection.
Supports multiple constellations & frequencies: GPS, GLONASS, BeiDou, Galileo, SBAS, QZSS, GAGAN
Supports 576 channels
410-470MHz UHF radio, 4G network, Wi-Fi, Bluetooth, NFC
Tilt compensation without calibration, immune to magnetic disturbances
16GB/8GB internal storage
Up to 16 hours working in 4G/3G/2G network and Rover radio mode
IP67-rated dust-& waterproof enclosure, for reliability in harsh environmental conditions
Shipping Worldwide – Contact Us for Best Price
Kryptton Differential GPS GNSS Receiver
Kryptton GNSS Receiver's built-in high-performance antenna can speed up the time to first fix (TTFF) and improve anti-jamming performance. With a Nano-SIM card inserted in Kryptton, it can access Internet, transmit and receive correction data through 4G/WiFi network. The built-in UHF radio module supports long distance communication. The built-in large capacity battery is detachable and can display power level. Two batteries support up to 16 hours of fieldwork in 4G/3G/2G network and Rover radio mode. Kryptton GNSS can be easily configured with 1.54 inch interactive screen on Ultimate and Advanced versions. The rugged housing protects the equipment from harsh environments.
The Kryptton TC20 Controller is a rugged smart phone with design of 4.3" touch screen and an alphanumerical keypad. Equipped with powerful processor, it is perfect to adapt with Kryptton Survey software. With professional IP67 rating, it is robust and reliable for harsh operating conditions.
Kryptton GNSS Receiver Technical Specifications:
Signal Tracking

GNSS
GPS L1, L2, L5
GLONASS L1, L2
BeiDou B1, B2, B3
GALILEO E1, E5a, E5b
QZSS L1, L2, L5
SBAS (EGNOS, WAAS, MSAS, GAGAN) L1C/A
Channels
576

Positioning

Single Point Positioning Accuracy (RMS)
Horizontal
1.5m
Vertical
3.0m
DGPS Positioning Accuracy (RMS)
Horizontal
0.4m
Vertical
0.8m
SBAS Differential Positioning Accuracy (RMS)
Horizontal
0.6m
Vertical
1.2m
High-Precision Static (RMS)
Horizontal
3 mm + 0.1 ppm
Vertical
3.5 mm + 0.4 ppm
Static & Fast Static (RMS)
Horizontal
3 mm + 0.5 ppm
Vertical
5 mm + 0.5 ppm
Real Time Kinematic (RMS)
Horizontal
8 mm + 1 ppm
Vertical
15 mm + 1 ppm
Post Processed Kinematic (RMS)
Horizontal
8 mm + 1 ppm
Vertical
15 mm + 1 ppm
Network Real Time Kinematic (RMS)
Horizontal
8 mm + 0.5 ppm
Vertical
15 mm + 0.5 ppm
Observation Accuracy (zenith direction)
C/A Code
15cm
P Code
20cm
Carrier Phase
1mm
Time To First Fix (TTFF)
Cold Start
<35s
Warm Start
<10s
Re-acquisition
<1s
Tilt Compensation Accuracy (within 30° )
≤2cm
*Available in Ultimate Version
Timing Accuracy (RMS)
20ns
Velocity Accuracy (RMS)
0.03m/s
Initialization (Typical)
<10s
Initialization Reliability
>99.9%

System & Data

Operating System
Linux
Storage
8GB & 16GB internal
Data Format
CMR, CMR+, RTCM 2.X/3.X
Data output
RINEX, NMEA-0183, Binary
Data update rate
20Hz

Electrical

Input Voltage
9~28V DC
Power Consumption (Typical)
Network or Radio receive mode
≈ 5W
Radio transmit mode (0.5W)
≈ 8W
Radiotransmit mode (1W)
≈ 9W
Radiotransmit mode (2W)
≈ 11W
Lithium Battery
7.4V 6400mAh x2*
*Kryptton GNSS uses one battery at a time, the other is a substitute. Each battery lasts up to 8 hours when Kryptton GNSS works in 4G/3G/2G network and Rover radio mode. Two batteries add up to 16 hours of continuous use.

Communication

Cellular
4G LTE/TD-SCDMA/WCDMA/GPRS/GSM
Network protocols
Ntrip Client,Ntrip Server, Caster Service
WiFi
802.11b/g
Bluetooth
4.1
Internal Radio
RF transmit power
0.5W/1W/2W
Frequency
410MHz – 470MHz
Operating mode
Half-duplex
Channel spacing
12.5KHz / 25KHz
Modulation type
GMSK, 4FSK
Air baud rate
4800 / 9600 / 19200bps
Distance (Typical)
>5km
Radio protocols
TrimTalk450, TrimMark 3, South, Transparent, Satel
Wired communication
USB OTG
USB 2.0 x1
Serial ports
RS232 x1
COM baud rate
up to 921600bps

Physical

Display
1.54'' OLED
*Available in Advance & Ultimate Version.
Dimension
157x157x103mm
Weight
≈ 1.2kg (without battery)
≈ 1.4kg (with a battery)
Operating Temperature
-40℃ ~ +75℃
Storage Temperature
-55℃ ~ +85℃
Relative Humidity
100% not condensed
Dust & Water Proof
IP67
Pole drop onto concrete
2m
Get Quote Now
Kryptton GNSS Receiver – Built for the future
Withstanding vibration and 2m topple over, and unbeatable IP67 protection for dust and immersion in water, the Kryptton GNSS receivers are built to last, performing under extreme conditions. Equipped with the most advanced GNSS receiver technology, Kryptton GNSS supports GPS, GLONASS, Galileo, BeiDou, GAGAN and SBAS systems. Suitable for any application, the Kryptton GNSS Receiver additionally considers new GNSS constellations like BeiDou and Galileo today and is prepared for even more signals tomorrow.
Contact us for Kryptton GNSS Receiver Price..
Get Quote Now