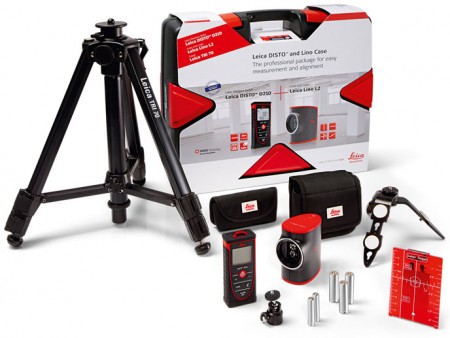 The professional package for easy measuring and alignment
This package was specifically designed for interior applications. It combines everything that you will need for accurate and reliable measuring and alignment. The laser distance meter Leica DISTO™ D210, the cross line laser Lino L2 and the tripod TRI 70 are stored safely and ready-to-use in the robust, attractive and functional carrying case. Keeping your tools in the convenient carrying case also ensures that nothing will be lost or forgotten. The tools are compact, handy and easy to use.
Everything readily available for interior finishing
Increased productivity and precise results
Perfect for easy stake-out tasks
Easy to carry due to the robust, attractive, and functional carrying case
Leica DISTO™ D210

The compact and handy entry-level model has many interesting functions and is still simple to use. Addition and subtraction, area and volume calculations for rapid and reliable site measurement. The last 10 results are stored.

Leica DISTO™ D210 – leave the measuring tape behind.

Power Range Technology™
Illuminated 3-line display
Automatic multifunctional end-piece

Leica Lino L2

The time consuming and tedious drawing of lines on the wall is a thing of the past. The Leica Lino L2 projects exactly, quickly and easily – allowing you to concentrate on the job in hand.

Pulse function with power-saving mode
Modern, ergonomic housing
Exact 90° angle
Large glass lens
Very easy to use

Leica TRI-70 small & handy tripod for every day use

Small and handy tripod for every day use
Aluminium tripod with easy fine adjustment
Bubble level
¼" screw on a stable and turnable head plate
Transportation length: 0.45m
Weight: 1.4kg
Working height from 0.40m to 1.15m (including screw-out central pillar)

Robust, attractive and functional carrying case.
Leica Disto & Lino Package Contents:
Leica DISTO™ D210 laser distance meter
Holster
Hand loop
Batteries
Leica Lino L2 cross line laser
Magnetic multifunction adapter
Target plate
Ball adapter for tripod
Batteries
Carrying pouch
Leica TRI 70 tripod
Robust Carrying Case