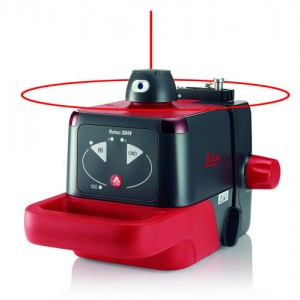 Leica Roteo 20HV – 
The basic model
The Leica Roteo 20HV is the ideal rotating laser for basic users. Its easy-to-understand keypad is intuitive to operate. The package includes a complete set of accessories for interior works with remote control, wall mount bracket and target plate.
Fully automatic horizontal and vertical laser
Manually adjustable wall mount
Easy access to the laser head
Scan modus
90° plumb beam
Outstanding battery life for working without interruption
---
[vc_tabs interval="0″ width="1/1″ el_position="first last"] [vc_tab title="Description" tab_id="description"]

Installing ceilings and walls
With its manually adjustable wall mount, the Leica Roteo 20HV can be positioned on the wall and moved backwards and forwards, allowing you to suspend ceilings and erect dry walls.
---

Marking out right angles
The Leica Roteo 20VH is alo a great help in th vertical plane. The combination of a vertical 360° reference plane and plumb beam simplifies layout, allowing you to work more accurately and efficiently on interior works.
---
Stairs and roof pitches
You can position the laser manually or with the help of the wall mount at any angle between 0° and 90°, allowing you to work without any problems on stairs an roof pitches.
---
Leica Roteo 20HV Delivery package:
Leica Roteo 20HV rotating laser
Manually adjustable wall mount
RC350 remote control
Battery (AA) for the remote control
Battery holder for alkaline batteries
Batteries for laser
Red target plate
Red laser glasses
[/vc_tab][vc_tab title="Specifications" tab_id="specifications"]
Leica Roteo 20HV Technical specifications:
Operating range (rotating beam)
up to 150 m (500 ft) radius with laser receiver
Self-leveling accuracy
± 3 mm at 30 m (± 1/8" at 100 ft)
Automatic self-leveling laser
horizontally
vertically
Self-leveling range
± 4.5°
Rotating speed
variable (5-settings)
Battery types
D-cell (mono), 2 x 1.5 V
Battery life
up to 160 hours (alkaline batteries)
Protection class
IP 54, dust- and splash-proof
[/vc_tab][vc_tab title="Video" tab_id="video"]
[/vc_tab] [/vc_tabs]
[vc_separator width="1/1″ el_position="first last"]
About Leica Geosystems – when it has to be right
With close to 200 years of experience pioneering solutions to measure the world, Leica Geosystems products and services are trusted by professionals worldwide to help them capture, analyze, and present spatial information. Leica Geosystems is best known for its broad array of products that capture accurately, model quickly, analyze easily, and visualize and present spatial information.
Those who use Leica Geosystems products every day trust them for their dependability, the value they deliver, and the superior customer support. Based in Heerbrugg, Switzerland, Leica Geosystems is a global company with tens of thousands of customers supported by more than 3,500 employees in 28 countries and hundreds of partners located in more than 120 countries around the world. Leica Geosystems is part of the Hexagon Group,