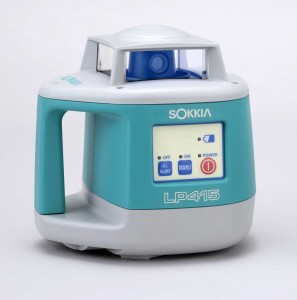 SOKKIA LP415 Self-Leveling Rotating Laser
Sokkia Rotating Laser LP415 Leveling Laser is compact, lightweight, rugged and affordable. The LP415 provides a 300-meter working range in diameter, more than enough for most construction and interior/exterior work. High-speed self-leveling at the press of a button, a visible red laser and H.I. Alert to prevent false readings make this laser ideal for the construction industry.
300-meter working range
The LP415 provides a 300m (1,000 ft.) working range in diameter, more than enough for most interior/exterior work.
Highly-reliable, high-speed self-leveling
Horizontal accuracy of 15 arc seconds.
Simply press the button and the LP415 quickly levels itself and start rotating.
Visible red laser
A flashing red light in the laser-emission window makes laser projection clearly noticeable even at a distance.
Compact, lightweight yet rugged
The lightweight 2 kg (4.4 lb.) body conforms to the IP56 specification for superior dust- and water-resistance to withstand demanding construction environments.
H.I.Alert for extra reliability
The laser beam will shut off as soon as the instrument is tilted or jarred to prevent false readings.
Comes complete with:
SOKKIA LR200 Dual Face Multi Colour Detector & Bracket
Dry Cell Batteries and Holder
Hard Carry Case
Manual
Optional rechargeable Battery & Charger
---
Sokkia Rotating Laser LP-415 Technical Specifications: