The Leica UTILIFINDER+ is an intuitive detection system designed to easily locate buried utilities around domestic properties and small building sites. Providing the perfect entry-level instrument, integrating ease of functionality with the latest digital detection technology, the UTILIFINDER+ provides the user with three utility search methods – Auto mode, UTILIGEN mode and UTILIDRAIN mode.
Unique easy-to-use buried utility locator
Large clear display with audible confirmation
Select Auto mode to detect other utilities
Provides depth reading of up to 3 metres
UTILIGEN signal transmitter to improve detection of utilities
UTILIDRAIN allows tracing of waste water pipes
No calibration required
Services Detected by Leica Utilifinder+

Contact Us for Best Price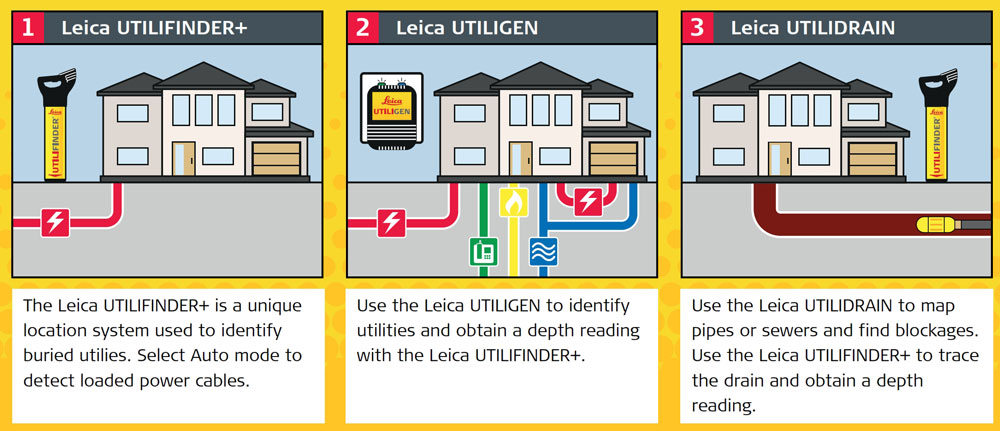 Key Features of Leica UTILIFINDER+ Buried Utility Locator
Cable and other utilities could run underneath any part of a domestic property. Before excavating for a path, landscaping a garden or installing a fence, it is critical to search for buried utilities.
Detect live cables with Auto mode
Use Auto mode to search for loaded power cables and other utilities with a detectable signal. A signal is produced by a current passing through the utility and is detectable by the Leica UTILIFINDER+ in Auto mode. This mode also features a proximity alarm to warn of shallow buried utilities.
Induce a signal with UTILIGEN
Some cables may not carry a detectable current but still pose a serious threat if damaged.
To detect these dormant cables, plug the UTILIGEN into a household socket and apply a detectable signal. Use the UTILIFINDER+ to detect this signal and obtain a depth reading with a simple press of a button.
Where possible, the signal will also connect onto other utilities such as telecom cables and water pipes, which the UTILIFINDER+ will also detect.
Search for drains with UTILIDRAIN
On occasions you may want to trace the route of drains or waste water pipes or find a blocked pipe. Insert UTILIDRAIN into the drain and pass along using drain rods or reels.
The UTILIDRAIN will emit a traceable signal which can be detected by the Leica UTILIFINDER+. Obtain a depth reading with a simple press of a button.
Single trigger
Positioned directly under the handle for simplicity of use, press and hold the trigger to activate UTILIFNDER+, release to switch off. The use of a trigger extends battery life and removes the On/Off button, which can leave the instrument turned on, draining the battery power.
Large clear mono display
The large clear display provides easy reading of the Signal Strength Indicator (SSI).
This display provides easy reading and information to the utilities position. Numeric and graphical signal strength indicators provide a confident locate.
Audible confirmation sound
Supporting the display, an audible sound confirms the presence of the detected utility.
Obtain a depth reading
Knowing the depth of the utility provides additional information and can contribute to safer work prac-tices. Depth estimation is obtainable when using the UTILIGEN or UTILIDRAIN accessories and can be provided down to a depth of 3 metres.
Ruggedness
The UTILIFINDER+ has been designed to be IP54, protecting against wet and damp conditions.
No calibration required
The UTILIFINDER+ will not require calibration, removing continued calibration costs.
Leica UTILIFINDER+ Technical Specifications:
Model
Leica UTILIFINDER Plus
Proximity alarm
Utilities less than 30 cm deep
Depth reading
Reading 0.3 m to 3 m,
typical depth accuracy 10% depth
Environmental protection
IP54, shower proof
Batteries
6 x AA alkaline (IEC LR6 supplied)
Battery life
40 hours intermittent use (at 20° C)
Weight
2.7 kg including batteries
Leica UTILIGEN Transmitter Technical Specifications:
Model
Leica UTILIGEN Transmitter
Frequency
33 kHz
Power supply
13 AMP plug mains 230 Vrms (max)
Dimensions
Width: 61 mm
Height: 47 mm
Length: 103 mm
Environmental protection
Indoor use only
Temperature range
0-40° C
Rating input voltage
230 V
Power consumption
2 VA
Weight
255 g
Leica UTILIDRAIN Technical Specifications:
| | |
| --- | --- |
| Model | Leica UTILIDRAIN |
| Frequency | 8 kHz |
| Batteries | 1 x AA alkaline (IEC LR6 supplied) |
| Environmental protection | IP68 |
| Weight | 820g including batteries |
| Dimensions | Width: 120 mm |
Videos of Leica UTILIFINDER+ Buried Utility Locator
Get Quote Now
Leica UTILIFINDER+ Buried Utility Locator
Every year building professionals are injured and equipment is damaged due to accidentally striking buried utilities. Knowing the location of buried cables, pipes and telecommunications prior to excavation work has never been so important.
Contact us for Leica UTILIFINDER+ Buried Utility Locator Best Price..
Get Quote Now