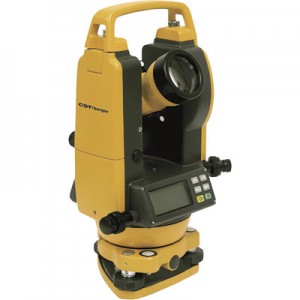 The Bosch DGT-2 features 2″ angular accuracy with a vertical tilt sensor that compensates telescope transiting to allow for instrument set up accuracy.
When Projecting a line or plumbing columns or walls, the Bosch DGT 2 will state to user the actual variance in true plumb and allow user to accurately and quickly turn the instrument back to a plumb position.
---
The CST/berger DGT 2 features dual digital displays and a simple 6-key user interface that makes using the instrument very simple and easy.
The Bosch DGT-2 inclused an optical plummet that allows the user to align instrument directly over a reference point without having to use the old plumbob method. The telescope is 30X and the minimum focus is 53″.
The DGT2 also features a 1:100 stadia ratio that allows operators to quickly estimate distances in the field. Working range is approximately 450′ in radius.
Features of Bosch DGT-2 Digital Electronic Theodolite
State of the art glass encoder

2 LCD panels with large, easy-to-read numbers

2 second horizontal and vertical readout

Crosshair and display panel illumination built-in

Clockwise/Counterclockwise horizontal angle measurement options

Vertical angle measuring; provides three different options plus percentage of grade

Vertical Tilt Sensor monitors the tilt angle in x-axis

Three different ways to read vertical angles

Zero resetting

Auto Power Off Option: if unit is not moved it will shut off in- 20 minutes, 30 minutes or infinity.

Can use rechargeable battery pack, or 4 AA Alkaline batteries. Average runtime of 15 hours using alkaline batteries.

Optical plummet

Water resistant, sealed construction

Removable tribrach for multiple set-ups