Bosch GLL 2X Professional Self Leveling Crossline Laser
The Bosch GLL 2X Professional is positioned as an entry-level 2-line cross laser. It is a simple and easy product which has adequate technical specification and a more competitive pricing. It's the ideal tool for users doing the basic levelling work in interior area at relatively small job sites!
---
[vc_tabs interval="0″ width="1/1″ el_position="first last"] [vc_tab title="Description" tab_id="description"]
The Bosch GLL 2X is a quick and precise solution for diverse applications.
Advantages: Bosch GLL 2X Professional
Highly compact 2-line laser – for easy transfer of right angles
Easy to use
Wide versatility
Get the job done faster and in a professional way
Projection angle: *60°
Laser type: 635 nm, class 2
Working range: 5m
Precision: ±0.5mm/m (ex-works)
Self-levelling range: ±4°
1m drop resistant
with slope function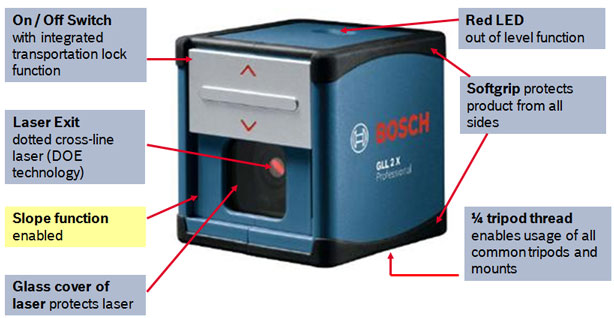 [/vc_tab][vc_tab title="Specifications" tab_id="specifications"]
Technical data: Bosch GPL 5 Professional
| | |
| --- | --- |
| Tripod Thread | Yes |
| Range | up to 5m |
| Levelling Accuracy @ 5m | ± 0.5 mm/m |
| Self-Levelling Range | ±4° |
| Batteries | 2AAA × 1.5V |
| Dimension | 65 × 65 × 65 mm |
| Number of Laser Lines | 2 |
| Weight | 250g |
| Laser Beam Direction | Vertical, Horizontal |
| Laser Class | 2 |
| Delivery Package | Bosch GLL 2X, Clamp MM2, Alkaline Batteries (2 x AAA), Carrying Pouch. |
[/vc_tab][vc_tab title="Gallery" tab_id="gallery"]
Bosch GLL 2X Professional
Protective Case
Clamp MM2
2 x 1.5 V batteries
[/vc_tab] [/vc_tabs]