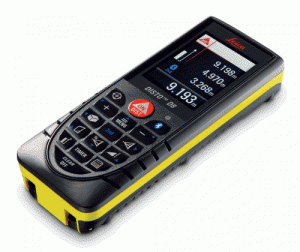 Leica DISTO D8-
The versatile one for in- and outdoor
The most versatile laser distance meter in the world! Equipped with a digital Pointfinder, high-resolution 2.4" colour display, 360° tilt sensor and bluetooth® technology, the Leica DISTO™ D8 is a real world first and offers completely new measuring options.
With Leica Disto D8 measurement results can be transferred wirelessly and without errors to pocket-PCs or PCs using the integral BLUETOOTH® technology, where they can be further processed quite easily in Excel®, AutoCAD® or other software. The AutoCAD® plug-in provides a convenient means of using the data for designing and drawing in AutoCAD®.
---
Digital Pointfinder with 4x zoom
Large colour display screen (2.4 inches)
360° Inclination measurement
Bluetooth® – reliable data transfer
DISTO™ transfer software and AutoCAD® plug-in included
The digital Pointfinder with 4x zoom allows you to point quickly and easily at far-off objects, in bright sunlight too. Even when the laser dot is no longer visible to the naked eye, the target can be clearly seen on the 2.4" high resolution colour display, allowing absolutely precise distance measurements to be made, even over great distances.
Despite its wealth of functions, the Leica DISTO™ D8 Laser Distance Meter is simple to operate thanks to its optimised user interface. And extremely handy; it can easily fit into any pocket. Its robust design with IP 54 protection keeps out dust and splash-water. This instrument completes the product family of laser distance meters. With its introduction, Leica Geosystems highlights the innovative power of the company and establishes  a new benchmark in the world of measuring.
360° tilt sensor
The combination of angle and distance measurements allows you to determine distances where conventional methods fail. The horizontal distance, for example, can also be determined quickly and efficiently past obstacles or the elevation of a tree, even though there is no reflective point.

Digital Viewfinder / Pointfinder
Thanks to the digital Pointfinder with its 4x zoom and high resolution 2,4" colour display, you can measure long range distances quickly and easily because you always see your targeted point.

BLUETOOTH®
With integrated BLUETOOTH® technology, measurement results can be wirelessly and accurately transferred to Pocket PCs and PCs. Thus you can easily process your data in Excel®, Word®, AutoCAD® and other programs.

Free software
The delivery package contains the transfer software "Leica DISTO™ Transfer" – easy to install and with automatic updates. The AutoCAD® plug-in additionally allows convenient planning and drawing with your AutoCAD® software.

Details displayed
The Leica Disto D8 Laser Distance Measurer having additional information about the measurements, e.g. room dimensions or angles, is available at the touch of a button.
Leica Disto D8 Delivery Package:
Holster
Hand loop
2 AA batteries
Target plate
Manual / safety instructions
Producer certificate M in accordance with DIN 55350-18-4.2.2
Quickstart guide
CD with Leica DISTO™ Transfer for PC and PPC, AutoCAD® PlugIn
Features
Your advantages
Measuring range of 0.05 m up to 200 m (0.16 ft up to 650 ft)
typ. accuracy ± 1.0 mm / ± 0.04 in
Precise, quick and reliablemeasurements
Bluetooth®
Error-free and quick data transfer to Pocket PC or PC
"Leica DISTO™ Transfer" software is included
Easy transfer for further processing in Excel®, Word®, AutoCAD® or other Windows-based programs
AutoCAD® plug-In
Convenient drawing using your AutoCAD® software
360° tilt sensor
Measure any slope, even overhead
Digital Pointfinder with 4x zoom and high resolution colour display
Convenient measurement of distant objects, even in bright sunlight
Indirect measurement functions with tilt sensor
Determine distances to objects that cannot be measured directly because they lack reflective points
Height profile measurements
Determine spot heights and ground profiles

Brouchure
Manuals
    Interior
  Exterior

Functions

DXT

D2

D3a

D3a BT

D5
D8

Smart Horizontal Mode™

•
•

Min / max measurement

•
•
•
•
•
•

Continuous measurement

•
•
•
•
•
•

Addition / subtraction

•
•
•
•
•
•

Area / volume measurements

•
•
•
•
•
•

Pythagoras functions

•
•
•
•
•
•

Room dimensions

•
•
•
•
•

Horizontal distance

•
•

Trapezium measurements

•
•
Indirect measurements
using tilt sensor
•

Line Levelling

•
 Technical Data
 

DXT

 

D2

 

D3a

 

D3a BT

 D5
 D8

Typical measuring accuracy

± 1.5 mm
± 1.5 mm
± 1.0 mm
± 1.0 mm
± 1.0 mm
± 1.0 mm

Range

0.05
– 70 m
0.05
– 60 m
0.05
– 100 m
0.05
– 100 m
0.05
–200 m
0.05
–200 m

 Measuring units

m, ft, in
m, ft, in, yd

 Power Range Technology™

•
•
•
•
 Distance in m
Ø of the laser dot in mm
10, 50, 100 m
6, 30, 60 mm
10, 50, 100 m
6, 30, 60 mm
Tilt sensor
Measuring range
Accuracy to the laser beam
Accuracy to the housing
± 45°
± 0.3°
± 0.3°
± 45°
± 0.3°
± 0.3°
360°
± 0.1°
± 0.1°

Units in the tilt sensor

0.0°, 0.0%
0.0°, 0.00%
mm/m, in/ft

4-fold digital viewfinder

•
•

Store constant values

1
1

Memory recall

10
10
20
20
20
30

Time delay release (timer)

•
•
•
•
•

Display illumination

•
•
•
•
•
•

Free software

•
•

Data interface

Bluetooth
(Class 2)
Bluetooth
(Class 2)
Measurements
per set of batteries
up to
5,000
up to
5,000
up to
5,000
up to
5,000
up to
5,000
up to
5,000

Multifunctional end-piece

automatic
manual
automatic
automatic
automatic
automatic

Tripod thread

•
•
•
•

Batteries

AAA 2×1.5
AA 2×1.5

Protection class

IP 65
IP 54
IP 54

Dimensions

122×55
×28 mm
111× 42
× 23 mm
127×49×27.3 mm
143.5×55×30 mm

Weigh with batteries

159g
90g
149g
150g
195g
205g
Leica Disto D8 Laser Measuring Meter Demo Video

About Leica Geosystems – when it has to be right
With close to 200 years of experience pioneering solutions to measure the world, Leica Geosystems products and services are trusted by professionals worldwide to help them capture, analyze, and present spatial information. Leica Geosystems is best known for its broad array of products that capture accurately, model quickly, analyze easily, and visualize and present spatial information.
Those who use Leica Geosystems products every day trust them for their dependability, the value they deliver, and the superior customer support. Based in Heerbrugg, Switzerland, Leica Geosystems is a global company with tens of thousands of customers supported by more than 3,500 employees in 28 countries and hundreds of partners located in more than 120 countries around the world. Leica Geosystems is part of the Hexagon Group,