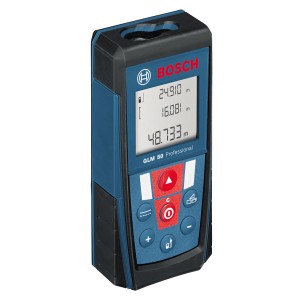 Bosch GLM 50 Professional Laser Rangefinders
The Bosch GLM 50 laser rangefinders from Bosch are ideal for every professional user who wants to take exact measurements quickly: equipped with state-of-the-art laser technology, Bosch rangefinders deliver results with maximum precision and reliability.
---
Bosch GLM-50 Professional Laser Distance Measure 50m Range Metric & Imperial Measuring
The Bosch GLM 50 Professional Laser Distance Measurer having more functionality and user-friendliness for indoor work Features: – New functions such as partial height measurement, height calculation and roof slope measurement – Millimetre-accurate measurement of areas, volumes and distances up to 50 m – Easy handling, intuitive user.
The basic laser measuring functions are easy to access and allow for quick direct measuring applications.
The Bosch GLM50 has been designed for precise indoor measuring to a range of 50 metres and an accuracy of 1.5mm.
Measuring area and volume calculations can be easily undertaken with the Bosch GLM50. Simply choose the function by pressing their individual key and follow the on-display guide.
Converting between metric and imperial measurements can be undertaken through the m/ft key.
Measuring reference from the front allows the operator to measure from a surface i.e. end of a table back to a wall.
This instrument is ideal for all interior designers, home inspectors and kitchen, bedroom, bathroom fitters.
Robust construction
Robert Bosch is the leading manufacturer of professional power tools, with all products meeting high standards for use around construction sites. The Bosch GLM 50 is no exception featuring high impact case, rubber grips, dust and splash IP54 protection.
Benefits and Features
A simple and robust laser rangefinder
Soft grip design for comfort
Simplicity of use clear design, easy to operate with its 7 button display
Automatically illuminating display allows for clear and easy read out
3-line display makes measurements easy to read and interpret
Multifunctional measures areas, volumes, distances and indirect heights
Reliable accurate and durable design makes the GLM 50 perfect for daily use in rough working environments
IP54-dust and water protection making the product site proof
1 m drop resistant
Range of up to 50 metres
Accuracy of ± 1.5 mm
Bosch GLM-50 Professional Laser Measurer Specifications:
Technical Specifications
Measuring Units
m, cm, mm
Protection Class
IP54
Tripod Thread
Yes
Accuracy
±1.5mm
Maximum Measuring Range
50m / 165ft
Minimum Measurement
0.05m / 0.16ft
Battery Life
10000 Individual Measurements
Functions
Measuring, Addition, Subtraction, Area, Volume, Pythagoras.
Batteries
2 x 1.5V AAA
Measuring Reference
Measures from front, back.
Dimension
115 x 53 x 32 mm
Weight
140g
Laser Class
2
Warranty
Six Months Warranty.
Country of Origin
Malaysia
Delivery Package
GLM 50, Soft Case, 2AAA Batteries, Quick User Manual.