The Leica DISTO™ DXT is the only laser distance meter, which is protected against jet water and is absolutely tight against dust – according to IP 65. This ensures, that it operates precisely, even at very unpleasant conditions.
Many manufacturers talk about robustness, only few go to such lengths as Leica Geosystems: The Leica DISTO™ DXT is the only laser distance meter which is protected against jet water, completely sealed against dust (IP65 Certified) and dropped from a height up to 2m to demonstrate its robustness.
With its sealed and flat keypad, the device can be easily cleaned by holding it under running water. On the inside, it is strengthened with special fibreglass-reinforced plastic bracing. Thick rubber housing on the outside protects the module against possible damage in case it is dropped. These features make the Leica DISTO™ DXT the ideal measuring instrument for daily use on construction sites.
---
The Leica DISTO™ DXT has a number of other useful functions, such as continuous measuring with display of minimum and maximum, as well as fast area and volume calculators with additional information for wall and floor area or perimeter. Keys for subtraction and addition, as well as a Pythagoras calculation for indirect measuring are all there too. A memory for the last ten measurements completes the functionality of the device, allowing you to take several measurements before entering them into your plan.
It goes without saying, that distances can be measured precisely to an accuracy of 1.5mm with the Leica DISTO™ DXT; true to the Leica Geosystems standard, "when it has to be right".
Another key feature is the proven multi-functional end piece with automatic position detection. Irrespective of whether measuring is carried out with the end piece in or out, the correct distance is automatically detected and displayed, avoiding tiresome measuring errors.
Features
Your advantages
Measuring range 0.05 to 70 m
Typ. accuracy ± 1.5 mm
Precise, quick and reliable measurements.
Sealed keypad
For measurements in extremely dusty environments.
Easy to clean under running water.
Solid rubber housing
Endures drop tests from 2 m height.
Hard-wearing, illuminated display
Measured values can be read, even in the dark.
Flip-out end-piece with automatic detection
Reliable, trouble free and error free measurement from edges or out of corners.
Minimum and maximum measurement function
Horizontal and diagonal measurements, e.g. in corners.
Room dimensions
Values such as circumference, wall area, floor or ceiling area are displayed at the touch of a button.
Continuous measurement
Simple and quick staking out.
 IP65
Dust-proof and jet water protected
Leica Disto DXT Package:
1 No. Leica DXT Laser Distance Meter
1 No. Protective Holster
1 No. Wrist Strap
2 No. AAA Batteries
1 No. Quick Start Guide
1 No. CD with manual / safety instructions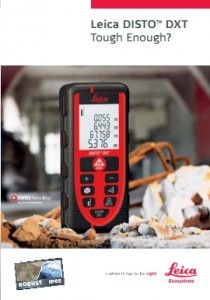 Manuals

About Leica Geosystems – when it has to be right
With close to 200 years of experience pioneering solutions to measure the world, Leica Geosystems products and services are trusted by professionals worldwide to help them capture, analyze, and present spatial information. Leica Geosystems is best known for its broad array of products that capture accurately, model quickly, analyze easily, and visualize and present spatial information.
Those who use Leica Geosystems products every day trust them for their dependability, the value they deliver, and the superior customer support. Based in Heerbrugg, Switzerland, Leica Geosystems is a global company with tens of thousands of customers supported by more than 3,500 employees in 28 countries and hundreds of partners located in more than 120 countries around the world. Leica Geosystems is part of the Hexagon Group,