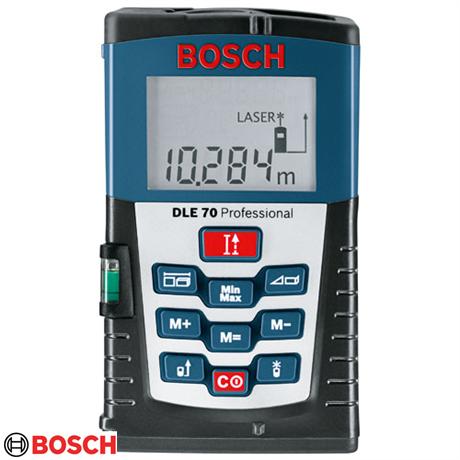 Bosch DLE 70 Laser Distance Measure 70m Range Metric Measuring
The Bosch DLE 70 Professional range finder takes measuring to a new level. Improved functionality means that everyday tasks can be performed faster and more efficiently – so why waste time, get one today!
The New Bosch DLE 70 laser measure superseeds the top selling Bosch DLE 50 rangefinder, adding extra measuring distance and new measuring functions. The Bosch DLE 70 has is accurate to 1.5mm delivered by utilising the latest Bosch developments in laser measuring technologies. This ensures that the Bosch Dle 70 offers trustworthy measurements every time.
It's versatile
The Bosch DLE 70 has the ability to measure from the front or the back of the device as well as utilising the new flip out metal stop pin to reach into difficult corners.
Easy to use
The Bosch DLE 70 has easy to use menus that offer a range of laser measuring functions including area, volume and indirect height measuring functions using Pythagoras.
Robust
The new style robust case on the Bosch DLE 70 has a rubberised grip with large rubber buttons that have a firm and precise feel when pressed.
The World's Smallest
Bosch DLE 70 is the world's smallest laser measure. Delivering 1.5 mm laser measuring accuracy in a compact unit. This really is the choice for today's measuring professional.
Features:
Measuring and continuous measurement button
Button to switch between: indirect measurement and the wall-area function.
Enables user to measure the surfaces of any number of walls that have the same height easily and by pressing as few buttons as necessary.
Button to switch between: minimum and maximum function – measures the shortest or largest distance between 2 points.
Button to switch between: length, area, and volume measurement.
Button to choose reference: front end, tripod thread, back end and measuring pin.
Spirit level as aiming aid when holding it in your hand or against a rough surface.
Types of measuring:
Continuous, indirect, multi-wall, surface, min & max.
Length, area & volume.
Button functions.
Memory recall & memory addition and subtraction
Equals button.
Permanent laser pointer button.
Cancel and on /off.
Reference (front end, tripod thread, back end and measuring pin.
Integrated spirit level.
Specifications:
Measuring range – 0.05 to 70m
Typical measuring accuracy – ± 1.5mm
Lowest indication unit – 1mm
Laser class – 2
Laser type – 635nm, < 1mW
Measurement time, typical – < 0.5 s
Measurement time, max. – 4 s
Power supply Batteries: 4 x 1.5 V LR03 (AAA)
Automatic deactivation – 5mins
Weight, approx. – 0.18 kg
Length – 100mm
Width – 59mm
Height – 32mm
Units of measure – m /cm
Memory values – 1
Includes:
Carrying Strap
Protective bag
Batteries 4 x 1.5v AA
Additional information regarding Laser Distance Measures
Laser measures are extremely accurate. They are ideal for indoor or outdoor use, however use outdoors may require the user to use laser googles to enhance spotting of the laser in bright sunlight or for distances over around 70 metres.
They are ideal for estate agents, building, construction industry and any other application that requires fast accurate measurements.