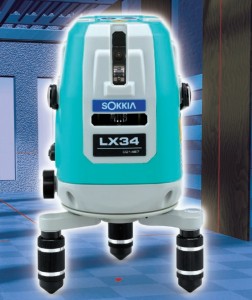 Sokkia Multi Crossline Laser LX32-LX34
Thanks to the remarkable leveling speed, wide operating area and certified SOKKIA quality, the LX32 and LX34 greatly increase work efficiency in leveling, plumbing, alignment and layout applications.
Projects 3 vertical lines and a horizontal line as well as a plumb down beam.
High-intensity laser diodes and advanced optical technologies provide extremely bright laser lines from an easy-to-use Class 2 laser.
Various jobs can be performed with one instrument setup.
Instant self-leveling within 3 seconds.
The standard detector LD601 expands the operating range up to 40m (130ft.) for exterior applications.
Compact body weighs only 900g (2lb.)
The IP54 dust-and water-resistant withstand harsh worksite conditions.
---
Sokkia Multi Crossline Laser LX32-LX34