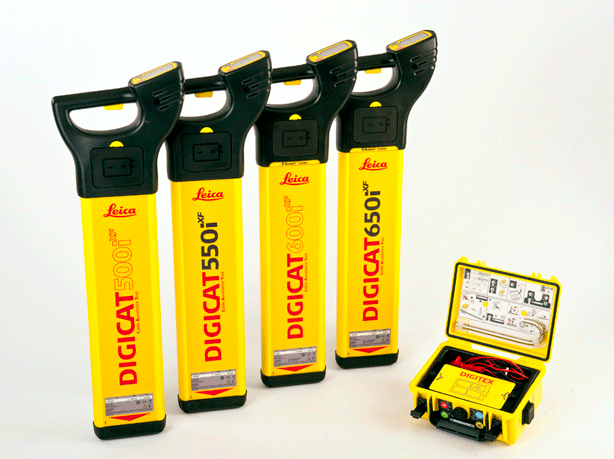 (Heerbrugg/Switzerland, 18 December 2012) – Leica Geosystems is delighted to announce the latest editions to the Digisystem product range, the Leica Digicat xf-Series. With Leica Geosystems' new xf-series cable locators and transmitters, users can accurately detect and trace utilities faster and over a greater distance, than ever before.
The Leica Digicat xf-Series has been specifically designed with long distance tracing in mind. The ability to trace transmitter frequencies of 512Hz and 640Hz provides users with a greater tracing range as well as the ability to locate sewer-camera inspection systems. All new models represent the latest design in cable technology. With modern Digital Signal Processing (DSP) and intelligent software the locators continue to make light work of ground surveys.
New locators
All new models of the Leica Digicat xf-Series make locating underground cables and pipes a simple and efficient task, increasing the operator's productivity. The Digicat 550i xf and 650i xf offer users the added benefit of depth estimation.
The Digicat 600i xf and 650i xf locators have the added benefit of an internal 32 MB memory and Bluetooth wireless connectivity. Both models integrate seamlessly with mobile mapping technology to log survey data, in addition to enabling wireless Bluetooth data transfer.
New signal transmitters
The newly developed Leica Digitex xf signal transmitters deliver a higher power output than previous models with the addition of extra low tracing frequencies. This improved performance allows users to trace services over a greater distance, improve service detection in areas of high signal interference and to improve depth estimation when using a depth locator.
Availability
The new locators are immediately available.
For more information about the Leica Digicat xf-Series of cable locators and transmitters, please visit:
http://www.leica-geosystems.com/digicat_xf
[divider]
Leica Geosystems – when it has to be right
With close to 200 years of experience pioneering solutions to measure the world, Leica Geosystems products and services are trusted by professionals worldwide to help them capture, analyze, and present spatial information. Leica Geosystems is best known for its broad array of products that capture accurately, model quickly, analyze easily, and visualize and present spatial information.
Those who use Leica Geosystems products every day trust them for their dependability, the value they deliver, and the superior customer support. Based in Heerbrugg, Switzerland, Leica Geosystems is a global company with tens of thousands of customers supported by more than 3,500 employees in 28 countries and hundreds of partners located in more than 120 countries around the world. Leica Geosystems is part of the Hexagon Group, Sweden.