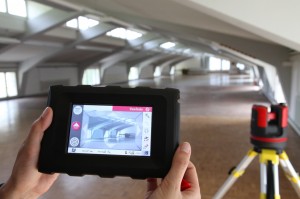 Since more than one year, the Leica 3D Disto redefines the market for measurement tools. As being first in its category, the Leica 3D Disto is a unique tool for measurement and projection, leveling and easy scanning. The new software version 2.0 introduces new features such as CAD tools for drawing completion in the field, a new surface scan option and more.
As-built measurement was never easier when using the Leica 3D Disto. The intuitive interface guides the user through all steps of the process.
New with software version 2.0 is the surface scan option that allows measuring a grid of points fully automatically. The user can chose the grid on a vertical or horizontal surface, or even on a tilted free-defined form. All scanning data are exported in one step in standard file formats such as DXF, commonly used in the industry for drawing data exchange.
Second innovation are the drawing tools. During the as-built process, the drawing tools are required in many cases for completion of parts of the drawing e.g. for missing corners, hidden points and other features that are difficult to obtain from the current setup location.
Leica Geosystems is always responsive to our customers' wishes and suggestions, thus the new software contains even more market driven improvements:
Software version 2.0 features of the Leica 3D Disto
Surface Scan option. This new scanning option enables the user capturing three-dimensional structures or complex surfaces by defining a simple grid of points to be subsequently scanned.
Leica 3D Disto CAD tools allow capturing inaccessible points by measuring surrounding points, speeding up the measurement process by reducing the need of taking manual notes or attempting to relocate for capturing a point directly.
Clever ideas for workflow improvements make the software usage smoother than anytime before.
Projector, the easiest layout and projection tool is now even better and more powerful than ever: with the option to define the surface strictly horizontal or vertical, it allows a perfect fit of layout elements versus the ideal plumb- or waterline, e.g. for façade or ceiling layouts.
Customers can register their Leica 3D Disto at myWorld@Leica Geosystems (https://myworld.leica-geosystems.com) and download the version 2.0 software on previously purchased instruments from October 2012 onwards. They will also find information on all aspects of their product 24/7: documentation, suggested solutions, product training, and more.
[vc_separator width="1/1″ el_position="first last"]
About Leica Geosystems – when it has to be right
With close to 200 years of experience pioneering solutions to measure the world, Leica Geosystems products and services are trusted by professionals worldwide to help them capture, analyze, and present spatial information. Leica Geosystems is best known for its broad array of products that capture accurately, model quickly, analyze easily, and visualize and present spatial information.
Those who use Leica Geosystems products every day trust them for their dependability, the value they deliver, and the superior customer support. Based in Heerbrugg, Switzerland, Leica Geosystems is a global company with tens of thousands of customers supported by more than 3,500 employees in 28 countries and hundreds of partners located in more than 120 countries around the world. Leica Geosystems is part of the Hexagon Group, Sweden.